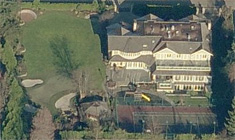 This stunning property, located in the heart of the best neighborhood in Kerrisdale / South Granville, is yet another example of new money revitalizing old tastes. The original 11,000 square foot mansion was peddled on the market in the1188 West 55th Avenue early 2000's for around $5 million. Since being sold, the homes new owners completely gutted the entire property and turned the home around. It is now 25% larger and fits better on its over 1 acre manicured lot with a new tennis court and small golfing green. Assessments have over tripled the value of the house in just one year, not including land value, which has resulted in 1188's accelerated jump into the city's 18th spot in 2007 to slightly drop off in 2007 a few spots – mainly due to new competition in the city.
ewly built this year, Turkish based owner Arkun Durmaz can finally enjoy his new chic pad in West Point Grey. A relatively modest home at only 8,000 square feet in this most exclusive 4803 Belmont Avenueenclave where the smallest lot is an acre and the largest is 5 acres – this one is 'only' one acre. Most homes on Belmont tend to be very much traditional and reak with old money, but not this one. It is a flashy contemporary shack which is protected by a giant concrete wall – which failed to keep our prying eyes (and camera's) away. The home itself was given a generous assessment of nearly $4 million, considering its small frame, it is a high number. If on the market right now, it would be fair to ask around $15 million. A nice home, but not as flashy as others on Belmont.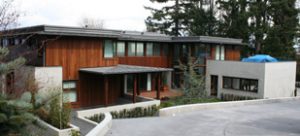 This ultra modern concrete home was built over 2 years and was completed in 2006. Considering the property is fairly modest at only 8,000 square feet, it amazingly fits this 2925 Point Grey Road4,000 foot home. Views are second to none, being unobstructed, gawking at the lush North Shore Mountains, Howe Sound and Burrard Inlet – it is a stunning package. While the "Golden Mile" is not my cup of tea, it has earned the reputation as the city's most expensive street per foot. The only waterfront lots in Vancouver City, and with eye-popping views, one has to expect to pay $8 to $20 million for a lot on the "Golden Mile". Cons, are defenetely street noise, proximity to neighbors and ultimately privacy is severlely sacrificed – but it's like having a Ferrari. You don't buy one to speed on our highways and you don't buy one as a family car to transport the kids to school. 2925 is a true ultra-contemporary home built by Kindred Construction, one of British Columbia's premier high-end construction companies.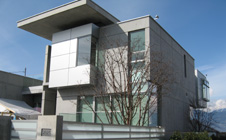 Quite an amazing looking home located in the heart of First Shaughnessy adjacent to some of the most palatial homes around, again built by master1599 Angus Drive craftsmen at G Wilson Construction. The home has an East Coast feel with a similar look of grand London pads. I would say it is one of the more flashy homes in Vancouver, in terms of quality and wow factor. You do not get much of any kind of views like you would in Point Grey but here you pay for the rights to say you live in Shaughnessy, with hundred year old mansions and tree lined meandering avenue's. The only real complaints about this home is that the yard is quite boring and offers no luxury – more like an eyesore with only grass to look at. But the lot is a fair 8/10ths of an acre, so that's not all bad. All in all the home looks great but the lot needs a lot of updating to match the house.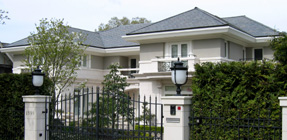 A not so common property to see on our top homes list, but here it is this year. While technically this is not a residential house, it actually is still zoned as a single family residence, 3300 Granville Street / 3338 Granville Street / 3380 Granville Streetand therefor does qualify to be on our lists. What makes this property so unusual is that it is actually home to the Consulate of China in Vancouver. The original old heritage house has been expanded to around 20,000 square feet to house the staff and function as the embassy to Vancouver's 400,000 Chinese ex-patriots. When it comes to ambassadors, they're quite accustom to living in palatial homes in their temporarily adopted nation, however this is without a doubt the most exclusive state home in Vancouver, with the Japanese ambassador living being this home on The Crescent and within a few hundred meters of a dozen other ambassadors. The home itself is not terribly visible from street level, but it seems to match up to its estimated $14.2 million market value and more! After all, the home itself makes up two/thirds of the entire assessment.